Health Office Information and Forms
Our Health Services Staff provides a wide range of health support to our district's children, including: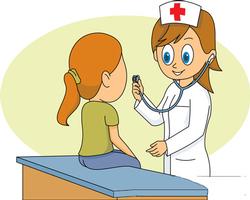 Distance visual acuity for all new entrants and for children in grades Kindergarten, 1, 2, 3 5, and 7, or at any other time deemed essential.
Near visual acuity for all new entrants within six months of entrance.
Color perception for all new entrants within six months of entrance.
Hearing acuity for all new entrants and for those in grades kindergarten, 1, 3, 5, 7, and at any other time deemed essential.
Scoliosis (curvature of the spine) for students in grades 5-8 annually if not already done by their own doctors.
First aid and illness care during the school day
Forms are available for parent/guardian use (see below).
Beginning July 1, 2018, parents will need to submit their children's physical exam paperwork to their school Health Office at the following grade levels: K, 1, 3, 5, 7, 9, 11 and all new entering students.
A copy of the health examination must be provided to the school within 30 days from when your child first starts at the school. If a copy is not given to the school within 30 days, the school will contact you. If your child has an appointment for an exam during 2018-19 that is after the first 30 days of school, please notify the Health Office with the date.
A PRIVATE PHYSICAL IS STRONGLY ENCOURAGED.
Your family physician or pediatrician is familiar with your child's health history, is able to give a more thorough physical examination, and can advise you regarding immunizations needs. This physical provides an excellent opportunity for you and your child to ask questions or discuss health concerns.
When you have your child examined by your family physician, please have the physician record the findings on the second page of the physical examination form. The signed physical should be returned to the Health Office as soon as possible in September 2018.
NYS Education Law also requests a Dental Examination Certificate in grades K, 1, 3, 5, 7, 9, 11 and for newly entering students.
If your child plans to participate in Interscholastic Sports, grade 7 through 12, a physical must be done annually. Please be sure the sports section is completed.
Reminders
If your child has a temperature of 100 degrees or higher, please keep your child home untill fever free for 24 hours. It is required by law.
A phone call, e-mail, or written excuse is required for any absence from school. Please email mlowery@lyncourtschool.org.
Please remember that a doctor's permission is needed to have medicine at school, even 'over the counter' meds such as Tylenol, Tums, and cold medicines. This is New York State law for all schools. You can download the permission form below.
If your child is to be excluded from physical education and recess for a medical condition or injury, a note fro the doctor is needed. Once cleared by the doctor, another note is needed.
PLEASE: If your child has come home with any clothes from the nurse, we need these items cleaned and returned. We are always in need of sweatpants in all sizes, sockes, belts, underwear, and used sneakers tht would fit K-4th grade children.

New York State requires all districts to participate in surveys directed by the state commissioner of health. Student's identity will not be disclosed by the health department. For further information, click here.

Contact Information
Melanie Lowery RN
School Nurse
Phone: 315.455.7571 option 2
Fax: 315.455.7573


COVID 19 Update Page