Facilities Improvement Project
The Lyncourt Union Free School District has a proud history of providing the best programs and facilities for our children. This success is the result of thoughtful and measured facility improvement programs over the years that have made certain we protect our investments. Sometimes this means replacing items that succumb to normal wear and tear, such as roofs and parking lots. Other projects are program related, such as upgrades to classrooms and technology infrastructure. The key is staying current with the latest program and facilities trends, and taking the best advantage of economic conditions and the availability of state funding (the Lyncourt District receives 83.2% building aid from the State).
Earlier this year the Board of Education hired an architectural firm to complete the District's State-required 5-Year Building Condition Survey. The Board and school district administrators used that document, and looked at other facilities- related issues in our district, to develop a master list of needs. The Board's intent was to present a project to the Lyncourt community that would have no additional tax impact on school taxes. So after many months of discussion, the Board and administrators pared down the list of building needs to what they felt were the most essential building infrastructure issues that needed to be addressed at this time.
The following is a list of building improvements that the Board of Education has approved to be included in a referendum to go before the voters on March 26th, 2015. The proposed improvements total $2 million, and as outlined under "Financial Impact" on the next page, will result in
no additional anticipated tax increase to our taxpayers
.
THE PROJECT AT A GLANCE
Roofing system & rooftop ventilator replacements over the 1932 and 1965 building wings.
Re-pointing & repair of the stone coping and chimney.
Updating restrooms for ADA accessibility.
Replacement of ADA non-compliant drinking fountains.
Renovation of front entry for security including adding a visitor sign-in window.
Replacement/repair of unit ventilators in the 1932 and 1965 building wings.

Removal of asbestos in ceilings in the 1965 building wing.
Ceiling light replacements in 1965 building wing.
Other lighting & controls improvements.
Upgrade software delivery method for instruction.
Additional video surveillance devises.
Plumbing upgrades for water conservation.
Renovation of kitchen/serving line & pass through.
Add makeup air unit in kitchen.
New parking lot lighting
"Preserving the Historic Pride of Our Community"
FINANCIAL IMPACT
The total project cost is not to exceed $2 million. The District receives 83.2% building aid on eligible building activities from the State of New York. The District will use $340,000 in capital reserve funds to offset the local share, which will result in no additional anticipated tax increase for our taxpayers.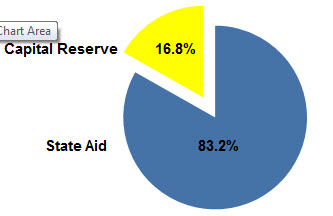 Downloads